Hands on: Microsoft's Surface Book is a stunner as both a tablet and a laptop
The incredible specs make up for a bit of awkwardness in how it all fits together.
The Surface Book's base is connected to the tablet by something Microsoft calls "muscle wire." Run a charge through it, and it grips; eliminate that charge, and it releases. The dynamic fulcrum hinge itself is segmented, like an arthropod.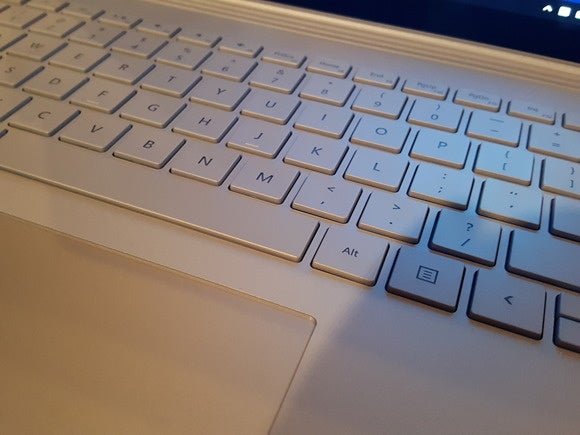 The keyboard is even better than the Surface Pro 4, with more key travel. Credit: Mark Hachman
About the only knock on the hinge is that it folds down to about 45 degrees on the diagonal—honestly, just fine for normal use, in my estimation, but not as far as the Surface Pro 3 reclines.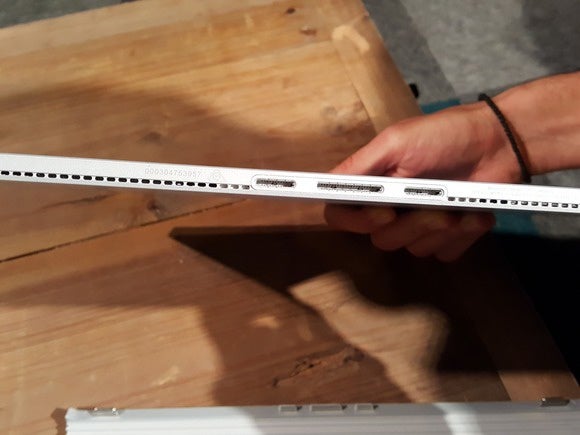 Here are the slots by which the Surface Book tablet connects to the base. Credit: Mark Hachman
Undocking the Surface Book is interesting. Because the Nvidia GPU resides in the base (one of the connectors between the base and tablet serves as a PCI Express connector), you might think that you'd need to reboot the tablet to dock and undock it, as some external GPU solutions require. That's not the case. In fact, if an app is using the GPU and the tablet is undocked, you have only to quit the app to allow undocking, Microsoft executives said.
To undock the tablet, you press and hold a undocking key—just another key on the keyboard. A second or two later you'll feel the clamps detach, and a message will appear on the screen alerting you that you can undock the tablet. Because of the way the batteries are arranged, you'll receive only three hours of battery life undocked, however, so keep that in mind.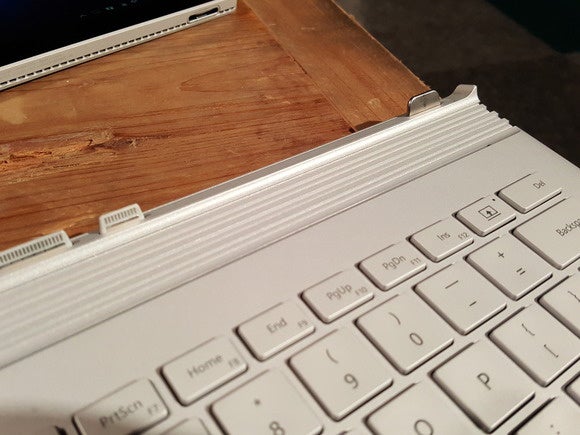 Hold down the undocking key (top, second from right) and the Surface Book preps to undock. Credit: Mark Hachman
The clamps are magnetic, to boot. Docking the tablet is a bit ungainly—I could rarely quite get the tablet to dock cleanly, maybe once in five tries. Otherwise, I was left trying to align everything just so. It's certainly not a deal-breaker.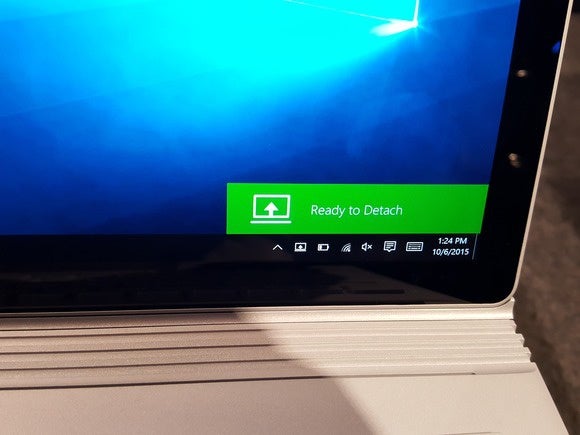 The undocking message. Credit: Mark Hachman
Because it's a Surface Book, you'll find other improvements as well: the Surface Pen, which features 1024 levels of sensitivity and docks right to the side of the Book via a magnetic clamp—no pen loop required. There's even Windows hello, implemented via a depth camera, versus the optional fingerprint reader found in the Surface Pro 4 Type Cover.
We didn't have a chance to test the Surface Book's performance. Is the Surface Book the ultimate notebook? We can't wait to find out.