Hands-on with Google's Cloud Print for Android
We test drive Google's new print-on-the-go app fro Android. It's got the basics, but there are better apps out there.
You can also send your document to more than just printers; Google also lets you send files to other mobile devices that are connected to Cloud Print including phones and tablets.
Choking on Office
In my tests, it was better to open an app individually and share your files with Cloud Print rather than relying on Google's app to find your apps and files for you. The biggest problem is that Google's Cloud Print app failed to recognize some basic file formats contained inside third-party apps such as Dropbox and SkyDrive. Cloud Print couldn't recognize Microsoft's Open XML formats such as DOCX and XLSX, for example. On a few occasions, Google's app couldn't even discover Microsoft's standard DOC and XLS formats inside Dropbox. That's a problem considering Office formats are the defacto standard for most of the business world.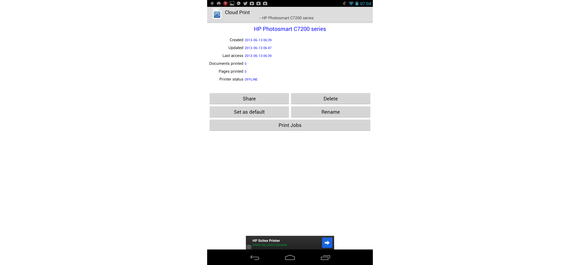 Cloud Print for Android by Paul Fernandes offers more robust features than Google's app such as printer management
Sharing these problematic file types to Cloud Print from within SkyDrive or Dropbox, however, was not a problem. So you will be able to print these files from your device, even if Cloud Print can't recognize them.
Beyond Microsoft Office formats, Cloud Print also had problems identifying other common file types within third-party apps including RTF, CSV, and even PDF. Google Drive for Android, on the other hand, integrated perfectly with Cloud Print. When I looked for Drive files using Cloud Print, the app could identify every file type I had in there including PDF and DOC files.
What's missing
Right now, Cloud Print for Android is extremely basic and missing some relevant and useful features. Managing your cloud-connected printers, for example, is impossible. For that you'll need to rely on a third-party solution such as the aforementioned Cloud Print by Paulo Fernandes. This third-part solution lets you share printers with others, delete and rename your printing devices, as well as set your default printer right from your Android device. Google's Cloud Print doesn't even let you see a list of printers unless you select a file to print first. It would also be nice if you could choose whether you want to print in color or black and white, something you can't do right now.
Bottom line
If you are a heavy Cloud Print user, you will be happier sticking with third-party solutions for now while Google's app matures. Anyone looking for a quick way to print a document every now and again, however, should find Google's Cloud Print app an acceptable solution for their purposes.