HP Spectre 12 X2 hands-on: Surface Pro-like performance without the Surface Pro price
HP has its own Surface Pro clone that offers a lot of features for a pretty reasonable price.
Like the Surface Pro line, but don't like its price? HP thinks it has the answer for folks who can only afford a Surface 3 but really want a Surface Pro 3. The company's newly announced Spectre 12 X2 competes directly with Microsoft's Surface Pro line but at a more aggressive price.
The style and shape will seem similar of course: It's a Surface clone. The Spectre 12 X2 features a 12-inch, 10-point touch screen, active pen support, and a keyboard that attaches using magnets and even snaps onto the tablet to improve lap use.
There's a lot of key differences between the now displaced Surface Pro 3 and HP's new Spectre though. The most important one is the CPU. The Spectre uses Intel's latest Skylake-based Core m3 or Core m7 CPU. That should give it a leg up in battery life and acoustics and maybe even performance. I'll discuss that more later.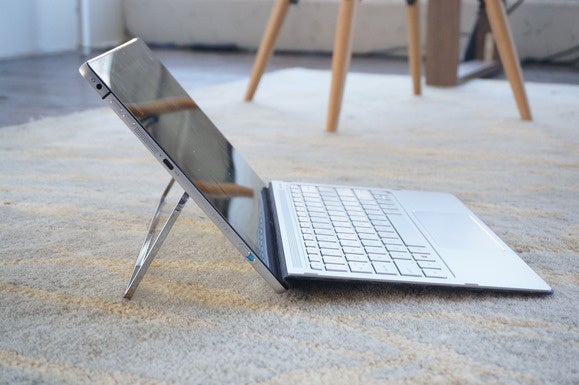 HP's Spectre 12 X2 is almost as cheap as the Surface 3, while offering features and performance more comparable to a Surface Pro 3.
Why is it a Surface Clone?
What makes the Spectre 12 X2 a Surface clone rather than a standard "2-in-1" or detachable? Everyone will have opinions on that but I think it's the kickstand. Detachable devices have been around for some time from several different vendors but the Surface is fairly unique with its kickstand.
HP's take—and by the way, it is indeed HP as in "post-split, the PC company will no longer be allowed to use the name Hewlett-Packard" HP—on the kickstand is to use a U-shaped metal bracket. The kickstand itself requires you to slide a switch to pop it out, rather than just pulling it out like on a Surface.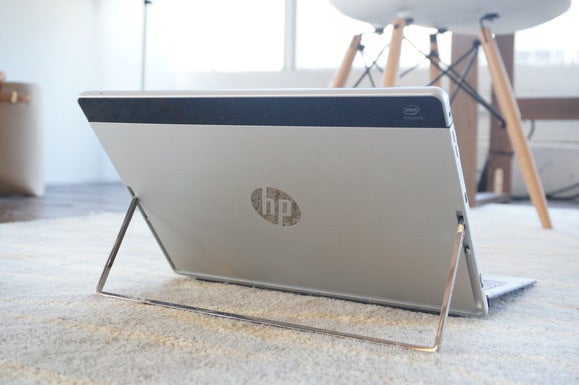 The kickstand on the Spectre 12 X2 folds back to 150 degrees and pops out with a switch. Credit: Gordon Mah Ung
HP said it did this to mostly increase battery life; the U-shape means it doesn't have to mill more material out of the back of the body. That maybe only 1 or 2 millimeters, but that extra space can be dedicated to more cooling or a bigger battery. For the record, the Surface Pro 3 is about 9.1mm thick and packs a 42.2 watt hour battery. The Spectre is 8mm and also packs a 42 watt hour battery.
Battery life, the company says, is rated at 10 hours using the latest version of MobileMark 2014. That's the gold standard for battery testing of a PC in a realistic-productivity test. However, there's also a feeling that MobileMark 2014 is too light of a workload. We'll find out when we actually get a Spectre 12 X2 in for testing.