HP Spectre 12 X2 hands-on: Surface Pro-like performance without the Surface Pro price
HP has its own Surface Pro clone that offers a lot of features for a pretty reasonable price.
HP also veers from Microsoft's use of a higher resolution panel, which can affect battery life. While the Surface Pro 3 features a 2160x1440 screen, the Spectre's is 1920x1280.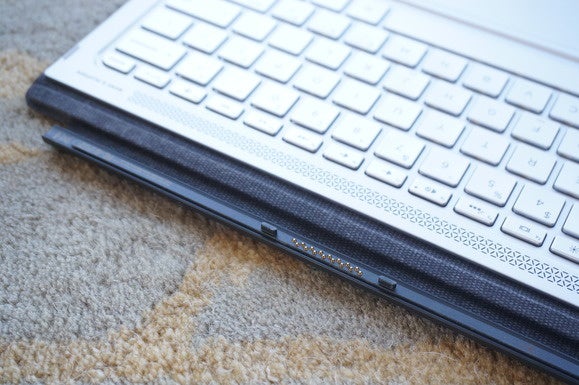 The Spectre 12 X2 keyboard comes with the unit and connects using magnets. Despite it looking just like the Surface connector, HP says they're not compatible. Credit: Gordon Mah Ung
Say buh bye to Windows Hello
In front there's the standard issue 5-megapixel camera but in back there's an 8MP Intel RealSense camera. It's an interesting choice that may prove to be a thorn for some. Intel's RealSense camera is one of the criteria to use Windows Hello, which automatically unlocks your PC when only you're in front of it. If you're into that kind of thing, it won't work on the Spectre, since the front-facing camera lacks Intel's technology.
But putting that RealSense camera on the back means you can do other nifty tricks, like make 3D scans of objects. The RealSense camera in back of Dell's Venue 8 7000 tablet lets you use the camera as a ruler. Unfortunately, the last time I tried it, it was mostly good just for parlor tricks.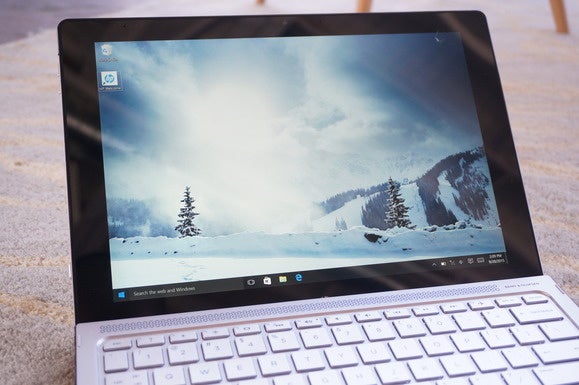 The IPS screen's resolution is 1920x1280.
Performance and acoustics
One of the big improvements the Surface clones will have over the last generation Surface Pro will definitely be temperature. The Surface Pro 3 used a 15-watt, Haswell-based Core i7 chip. While it was great on short bursty usage scenarios, tasking the Surface Pro 3 with anything strenuous for longer than a few minutes would case performance would drop as it heated up. Unlike with a laptop, you're talking about a pretty hot CPU packed into the same body as the device's screen. That adds up to a lot of heat and rather than set you on fire, Microsoft chose to turn the CPU's clock speeds down.
A Surface Pro 3 will actually run at almost half the speed of a laptop with the same CPU on lengthy tasks such as gaming or encoding. Just browsing with Chrome would cause the Surface Pro 3 to turn on its fans. Putting a case on the Surface Pro 3 costs you even more performance. I imagine the Surface Pro 4's use of Intel's newer Skylake chips will greatly help, but I won't know for sure until I test it.
If HP and Intel did its homework, those problems shouldn't inhibit the Spectre as much—or possibly at all. With the Skylake-based Core m putting out a third the heat of the Haswell CPU in the Surface Pro 3, I expect thermal throttling to less prevalent with the Spectre. There's a very good chance the Spectre will outperform the Surface Pro 3, or at the very least be just as fast without the fan noise. The proof is in the Jell-O pudding though, so we'll have to wait to get our hands on a unit.