HP Spectre 12 X2 hands-on: Surface Pro-like performance without the Surface Pro price
HP has its own Surface Pro clone that offers a lot of features for a pretty reasonable price.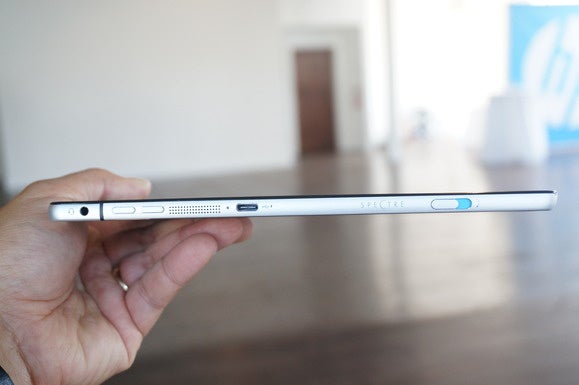 The Spectre 12 X2 is 8mm thin and 1.78 lbs. With its keyboard, it'll push 13.2mm and weight 2.7 lbs. Credit: Gordon Mah Ung
Ports and bonus hardware
For ports, it's pretty slim pickings.
You get a USB-C port on both port and starboard sides of the laptop. Either of the ports can be used to charge the unit, too. There's no USB-A but HP gives you a dongle so you can, say, plug your USB key or external drive into the Spectre. The ports aren't compatible with Thunderbolt 3.0 or USB 3.1 either. The good news, of course, is you get two. What's not clear to me is if the Spectre 12 X2 supports MHL, which would let you run a monitor out of the ports. Let's hope it does. There's also a microSD port aboard for those who need more local storage.
The really nice touch for those who are interested in always being connected is support for Verizon LTE in the Spectre. It's included in both SKUs and can be activated by the customer.
Price and specs
The real eye opener is how aggressive HP is being with the Spectre's pricing. The base version of the Spectre 12 X2 features a Skylake Core m3-6Y30, with 4GB of DDR3L, a 128GB M.2 SSD, LTE and 802.11ac Wi-Fi for $800. Mind, you that's with the keyboard.
The Atom-powered Surface 3 with 128GB of storage is $600 without a keyboard. The Type Cover is another $130. If you wanted an LTE version, you'd be looking at another hundred bucks for the Surface, or $830 for the Surface 3 with a ho-hum Atom processor instead of a Core m3.
Moving up to the Surface Pro 3 with 128GB of storage, you'd have to spend $1,030 with the keyboard. To be fair to Microsoft, you do get the stylus thrown in with the SP3. HP, it seems, won't include the Spectre 12 X2's active Wacom pen in the package.
Microsoft's newest Surface Pro 4 changes the equation somewhat. Just announced yesterday, the SP4 gives the Surface a badly needed CPU update to Intel's latest Skylake chips, with Core i7, Core i5 and Core m3 versions available—but it's still fairly pricey. The base Surface Pro 4 gives you a Core m3, 4GB of RAM and 128GB of storage for $900. Add $130 for the type-cover, improved as it is, and you're still looking at $1,030 without LTE.
The higher-end Spectre ups the CPU to a Skylake Core m7-6Y75, 8GB of DDR3L, and a 256GB SSD, with remaining parts appearing to be the same. HP didn't divulge pricing information for the fully loaded version.
Of course, we haven't formally tested either the Surface Pro 4 or the Spectre 12 X2, but it's brewing up to be a massive brawl for who can out-surface the Surface.
Previous Page 1 2 3