HP Spectre 13.3 laptop review: Thin doesn't have to mean compromise
HP's Spectre 13.3 delivers competitive performance and a respectable keyboard, in spite of its super-svelte body.
The display is a 13.3-inch IPS panel with 1920x1080 resolution. It has a Gorilla Glass 4 layer that's directly bonded to the panel, which both protects and minimizes thickness. So far, no complaints.
What's more, in a darkened room with the backlighting at max, I didn't see any excessive backlight bleeding. It could be a little brighter (it's rated at 300 nits and I measured our unit at about 324), but it's not dim. Overall, it's quite nice. The problem is that people want higher-resolution screens or touch, and neither is an option on the Spectre 13.3.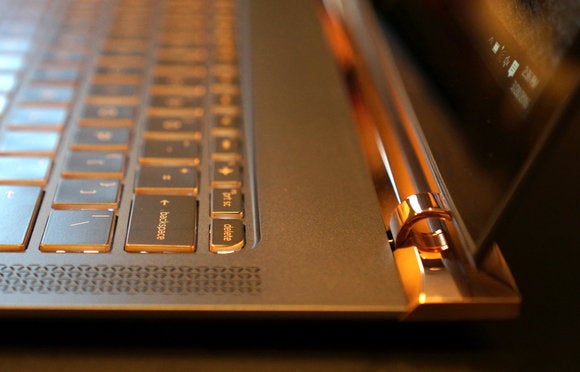 Gordon Mah Ung The HP Spectre 13.3 features cabinet-like hinges.
One other limitation is in the screen's tilt, which stops at about 120 degrees. For comparison, the XPS 13 tilts back to 140 degrees, while the 2016 MacBook 12 goes to just over 130 degrees. The 120-degree tilt works fine for me, but some people really like their screen to recline.
The reason for the shorter tilt angle is HP's unique hinge-and-piston system. The company says it used furniture-style hinges with tiny pistons to help keep the body thin yet still provide sufficient resistance when being opened or closed.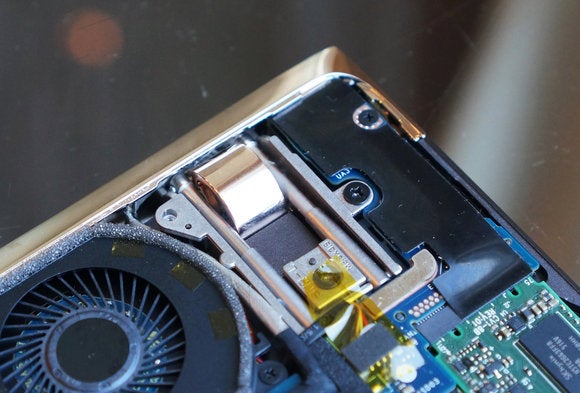 Gordon Mah Ung The cabinet-style hinge HP uses is compact yet stiff thanks to two tiny pistons.
Keyboard and trackpad
HP is particularly proud of the Spectre 13.3's keyboard, which as stated earlier, boasts a full 1.3mm of travel. It's backlit as well. In use, it's far and away more satisfying than the MacBook 12's keyboard, and good overall—even if the keys feel a bit looser than those on HP's Spectre x360.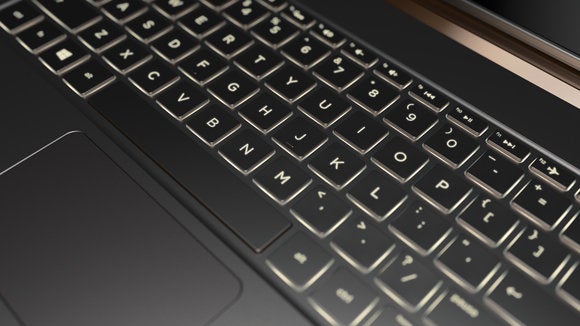 Here's the standard keyboard in the HP Spectre 13.3.
The trackpad is a tad small at 3.7 x 2.2 inches—quite a bit smaller than the trackpads on both the XPS 13 (4.2 x 2.4 inches) and MacBook 12 (4.5 x 2.75 inches)—but it still feels nice to use and features a smooth glass coating that your finger just glides over.
Speakers
The audio department is a little underwhelming. HP partnered with B&O for the Spectre 13.3's speakers, but there's really only so much one can do in a thin body. While the audio isn't atrocious (Lenovo's ultralight LaVie Z still holds that distinction), it's not great either. It's barely loud enough and lacks the presence that the much thicker Dell XPS 13 delivers. B&O does give you a utility to tweak the audio, but it can't magically make small speakers sound larger.
Previous Page 1 2 3 4 5 Next Page