HP Spectre 13.3 laptop review: Thin doesn't have to mean compromise
HP's Spectre 13.3 delivers competitive performance and a respectable keyboard, in spite of its super-svelte body.

Here's what HP's new Spectre 13.3 looks like on a normal night out.
The style
I'll admit it up front, I'm not a huge fan of the Spectre 13.3's styling or color scheme. I've described it as gaudy—something Zsa Zsa Gabor might favor—but looks are subjective and therefore don't have a bearing on the final verdict. The style did receive far more attention than most other laptops in the office, for what that's worth.
Hyperbaric chamber
One feature HP brass likes to tout is how the Spectre's "hyperbaric chamber" cooling makes the laptop thinner. Most laptops use a traditional heat pipe design: a copper plate with a wick material that helps move the heat to a larger piece of copper, which is then cooled directly by a fan. The image below shows this layout. The CPU's cooler is on the right and you can see two heat pipes that transfer heat to the fan. The heat pipes on the left cool the GPU.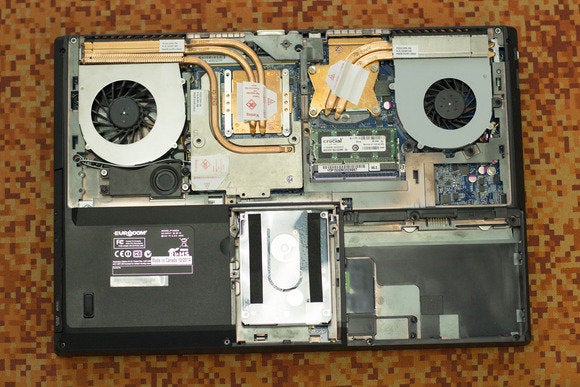 Gordon Mah Ung
Compare this to the inside of a pre-production Spectre 13.3, shown below. A sealed chamber is created using insulation. Cool outside air is sucked in through vents directly under the fans, which is then blown over the CPU and exhausted out the rear vents. (Note: Only one set of the exhaust vents is operational, but HP uses a fake set to maintain aesthetic symmetry.)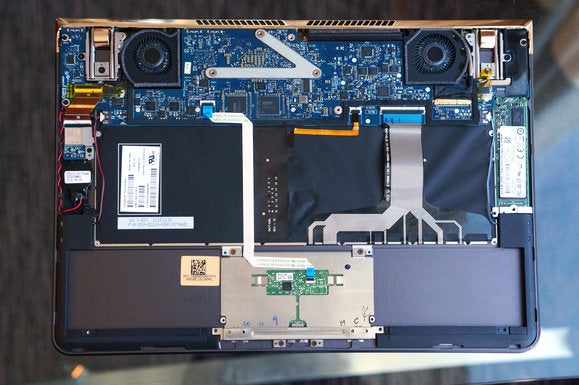 Gordon Mah Ung
Below is a close-up of the hyperbaric chamber, where you can see the foam insulation around the fans and the motherboard. The bottom of the laptop would close against the seals to create the chamber. The CPU is actually mounted on the other side of the motherboard. From this picture, we can see what looks like the fins from a heat pipe that is attached to the CPU, but again, the fans don't directly interface with it.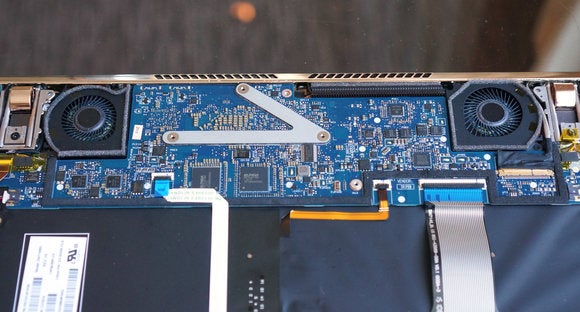 Gordon Mah Ung
Does it even work?
When HP said it used a hyperbaric chamber rather than a traditional heat pipe design, I was skeptical. After all, heat pipe designs have worked for a long time. Alternative cooling might be fine with a Core m, but HP offers up to a Core i7 chip. Could it keep that CPU cool enough to give you the performance you're paying for? Or would CPU temps cause that Core i7 to throttle down to the performance of a Core m?
Previous Page 1 2 3 4 5 Next Page