HP Spectre 13.3 laptop review: Thin doesn't have to mean compromise
HP's Spectre 13.3 delivers competitive performance and a respectable keyboard, in spite of its super-svelte body.
With a Spectre 13.3 review unit in hand, I aimed to find out. For this review, I'm looking at the $1,249 version of the laptop. It includes a dual-core Skylake Core i7-6500U, 8GB of LPDDR3/1866 RAM, and a 256GB M.2 SSD. These specs are comparable to those of HP's major competitors.
Let's dig into the benchmark results.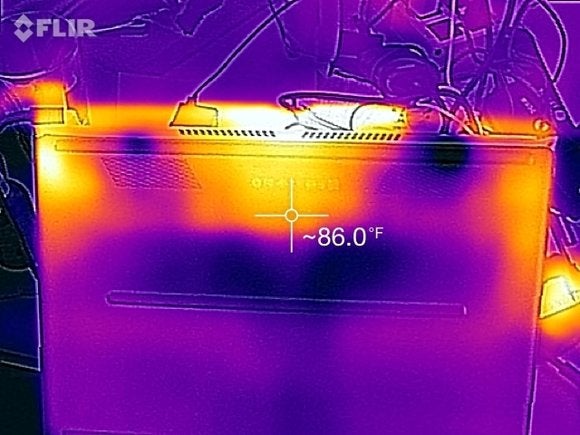 Here's that hyperbaric chamber in action about an hour into a video transcode, as seen through a thermal camera.
CineBench R15 performance
CineBench R15 is a benchmark based on Maxon's Cine4D rendering engine. A pure CPU test, it hammers all cores and takes about five minutes to run on a dual-core laptop.The results aren't bad, honestly. The Spectre 13.3 is a tiny bit off the pace of comparable Core i7 dual-core laptops, but surprisingly close when you consider that the other laptops are much thicker.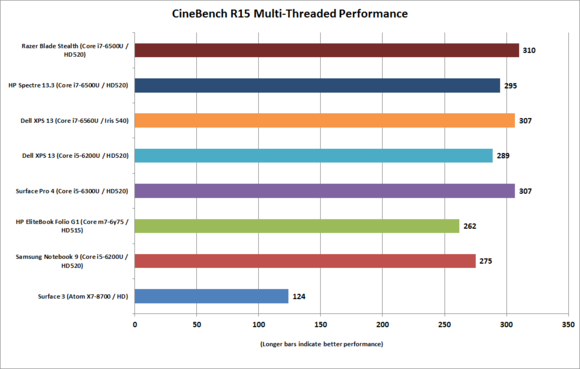 The Spectre 13.3 hangs with the other Core i5 and Core i7 laptops.
Handbrake performance
CineBench is a multithreaded test but it takes just a few minutes to run, so it's hardly a challenge to the cooling in the Spectre 13.3. For that, we turn to our Handbrake encoding test, where we take a 30GB MKV 1080p file and convert it using the Android Tablet preset. On a dual-core laptop, it can take a couple of hours to run. We consider this more of a thermal soak test for this class of device, rather than a pure performance test. If the cooling isn't up to snuff, you should see it here.
Again, the Spectre isn't at the front of the pack in finishing our encoding test, but it's not too far behind. Frankly, I expected the Spectre 13.3's cooling to fall apart on the long haul and slow to a crawl, but I have to say it's very much a win when you consider the Spectre's svelte body. Take, for example, the Spectre's performance against the Samsung Notebook 9, which performs atrociously for a Core i5 chip.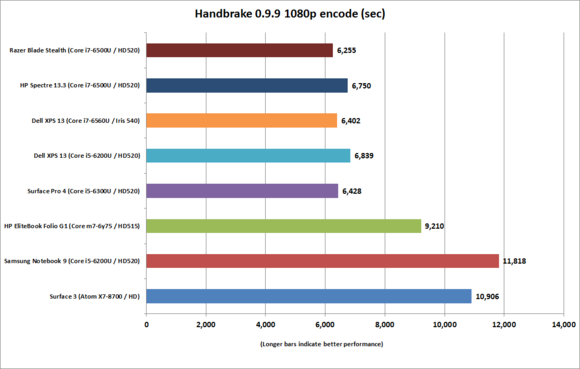 Again, the Spectre 13.3's unique cooling holds its own in encoding chores.
3DMark SkyDiver performance
To gauge the 3D performance of the Spectre 13.3, we used 3DMark's SkyDiver benchmark. It offers a workload appropriate for integrated graphics and the Spectre 13.3 does quite well here. Graphics benchmarks are also a great way to test thermal issues. 3DMark allows you to run a demo mode before the actual test is performed. This means 10 minutes of graphics tests heating up the CPU before the benchmark runs. In laptops that are sensitive to heat, I've seen performance drop from 10 percent to 50 percent or more.
Previous Page 1 2 3 4 5 Next Page