HP Spectre 13.3 laptop review: Thin doesn't have to mean compromise
HP's Spectre 13.3 delivers competitive performance and a respectable keyboard, in spite of its super-svelte body.
On the Spectre 13.3, I initially saw about a 10 percent drop. But in the course of my testing, HP issued an updated BIOS to address another tester's complaints about fan noise. With the latest BIOS in place, I saw no drop in performance, which indicates minimal to no thermal performance issues.
I'll also add that the fans do spool up when under a graphics or heavy CPU load, but it's really not bad. Still, if you want pure silence, get a Core m laptop.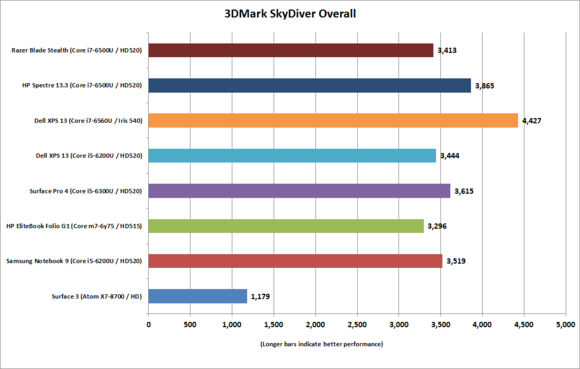 Graphics performance is just where it should be with the Spectre 13.3.
Battery-life performance
Performance and hyperbaric fanciness aside, the most important feature of any laptop is probably its battery life. To gauge that, we play a 4K UHD video file using the Windows 10 Movies & TV player at a relatively bright 255 nits with analog ear buds until the laptop shuts down.
The Spectre 13.3 doesn't disappoint here. Only the Dell XPS 13 with a 1080p non-touch screen outlasts it, thanks to its giant battery. The Spectre 13.3 actually holds its own in video rundown performance against Core m laptops and even the Atom-based Surface. For that you can thank its 38-watt-hour lithium polymer battery, which is rated for 1,000 duty cycles. Well done, HP.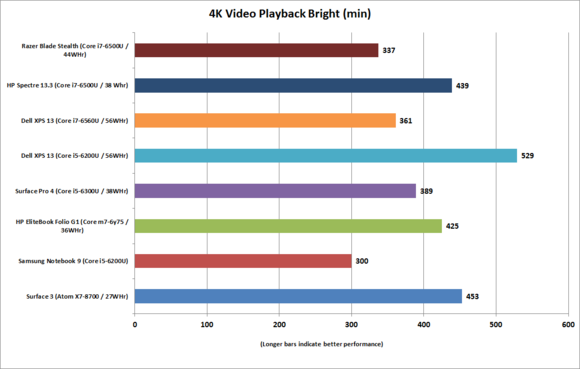 Conclusion
In the end, I have to give HP credit for accomplishing its goal of making the thinnest laptop possible without compromises. You're truly getting Core i7 performance in a body most manufacturers would outfit with a low-power Core m. And let's not forget that the Spectre 13.3 gives you not one, but two Thunderbolt 3 ports and a USB-C port.
Is the Spectre 13.3 perfect? No. The audio is average to below-average. I'm also bummed that the laptop won't accept third-party USB-C chargers. I know HP's reason, but it still doesn't make me happy.
In the end, the Spectre 13.3 is an impressive laptop. It gives you robust performance for its thickness, it gives you a keyboard you can actually work with, and its looks set it apart from all others.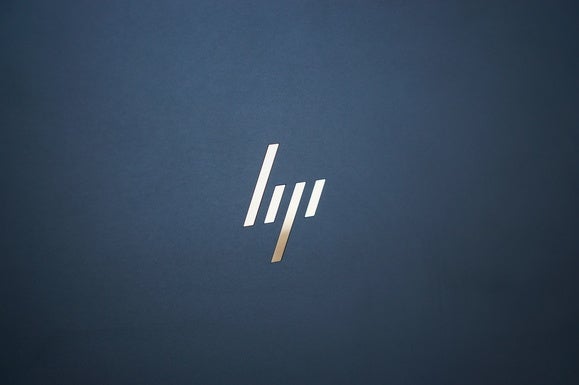 Gordon Mah Ung HP's new logo will be used only on the Spectre.
Previous Page 1 2 3 4 5