HP's Star Wars Special Edition laptop comes with everything but a Thermal Detonator
This laptop-shaped homage to the incredibly successful movie series is a gimmick that's well thought-out and actually useful on a day-to-day basis.
A long time ago in a corporate licensing office, far, far away, someone started granting permission to make Star Wars merchandise to just about anyone with a pulse and a checkbook. The result was Jar Jar Bink's Tongue Sucker, Boba Fett misters and a Star Wars tackle box.
So when you hear the phrase "Star Wars laptop," I'll understand if you'd rather be cryogenically frozen than see more of your cherished memories thrown into a Sarlacc Pitt, where they will be digested over a thousand years.
Fortunately, HP's take on a Star Wars laptop isn't one of those horrible gimmicks that makes Mon Mothma weep. HP basically stayed on target in producing a laptop that Star Wars aficionados and Comic Book Guy collectors can appreciate.
Don't believe me? Even the unboxing of the Star Wars laptop is a special May-4th experience and tells you how much work HP put into it. The box, of course, has Star Wars images plastered on it. That's a given. But when you open it up (reducing collector value sucker!) and pull out your power brick, it's in a box with an image of Darth Vader himself. I might add, the box seems perfectly sized to store your action figures.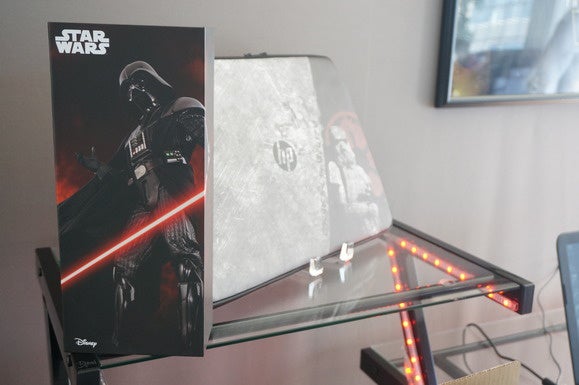 The box for the power brick has none other than the Sith Lord himself: Darth Vader. I plan on putting my Han Solo action figure inside. Behind it you can see the special case HP is also selling. Credit: Gordon Mah Ung
But now you're ready to take out the laptop, which is held in place by a Sinear TIE Advanced x1 fighter. Yes, one of the few TIE fighters ever built that conveniently included a hyperdrive system, so Darth Vader could escape after the Death Star was destroyed. I mean, no reason for Han, Luke and Wedge to go after him right? They had a party to go to!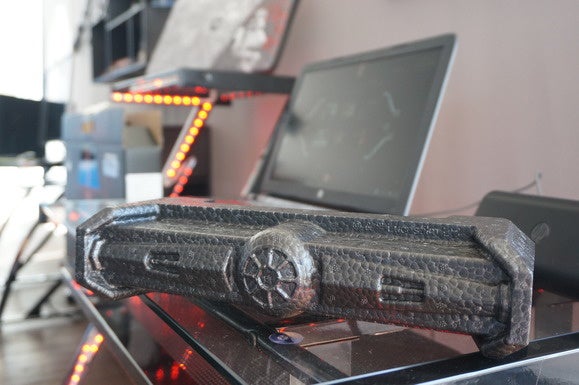 A Sinear TIE Advanced x1 fighter protects your Star Wars laptop during shipping. Credit: Gordon Mah Ung
HP even modeled the solar panels of Vader's Twin Ion Engine fighter in the packaging. Solar panels, which scientifical-types say would never work because you couldn't collect enough photons that far in space. Sniff. Well, whatever.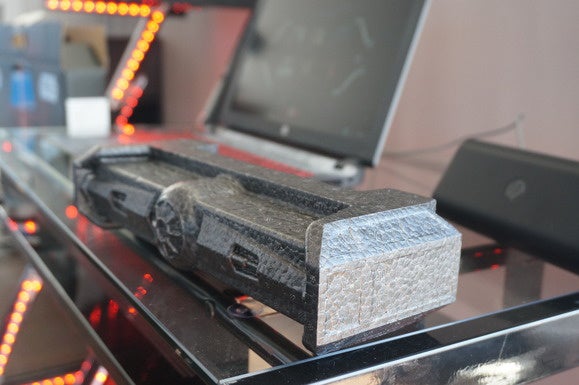 Here's another view of the foam packaging that holds the HP Star Wars laptop while in transit. Credit: Gordon Mah Ung
Here's the laptop itself. The name is unremarkable: "Star Wars Special Edition" Notebook. On paper, it's a skinned Pavilion laptop with average parts. The specs on it include Intel's latest 6th-gen Skylake Core i5-6200U, a 15.6-inch, 1920x1080 IPS panel, 6GB of DDR4 RAM in dual-channel mode and Intel HD 520 graphics. There's also a 1TB hard drive. The device weighs about five pounds. HP says it includes an optical drive so you "can watch your Star Wars discs."