HP's Star Wars Special Edition laptop comes with everything but a Thermal Detonator
This laptop-shaped homage to the incredibly successful movie series is a gimmick that's well thought-out and actually useful on a day-to-day basis.
The mostly unremarkable specs help contain the costs to an affordable $699. HP does offer memory upgrades, as well as an optional Nvidia GeForce 950m and larger storage, but you know what? I'd rather buy the baseline model and do some upgrades myself. I'd drop in more RAM and an SSD. If it had an M.2 slot, which I'm going to imagine it does, I'd put in an M.2 SSD too, and then maybe a 2TB hard drive.
That way I could pull it out at the cafe to show my customer. And yes, after she exclaims "what a piece of junk!" I could say: "She'll do 500MBps write speeds kid. I've made a lot of special modifications myself."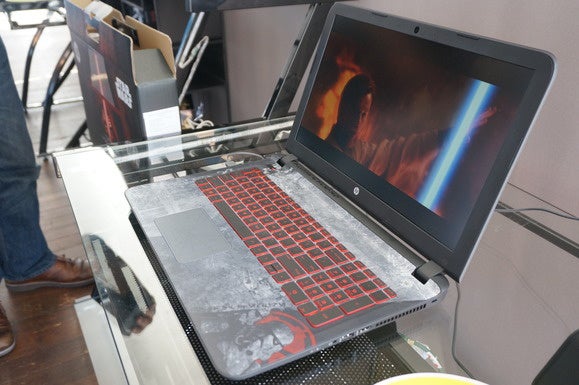 HP's Star Wars laptop will make .5 past light speed. She may not look like much, but she's got it where it counts. Credit: Gordon Mah Ung
But again, HP didn't just slap on the skin and call it and call it a day. On the top deck of the laptop is none other than TK-421. You probably know him as a Storm Trooper who somehow couldn't blast a Rebel even from five feet away.
The use of TK-421 and Darth Vader, I'll point out, shows HP knows its Star Wars fans too. No matter what you think of the hardware, who doesn't love Episode IV? Now imagine someone in HP corporate looking over the Star Wars licensing menu at Disney and noticing how much cheaper it probably is to license Episode I merchandise. I can hear this conversation: "Whoa, 25 cents to license teenage Anakin Skywalker, and they'll throw in Jar Jar for free!"
HP chose wisely. It's almost all Episode IV-VI material except for a few wallpapers.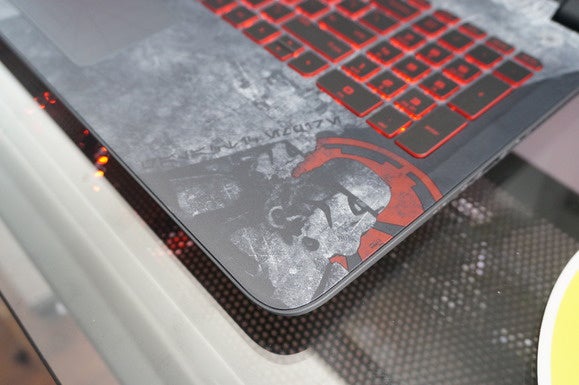 Here's a look at the Storm Trooper on the HP Star Wars laptop. Sure, they can't shoot worth a damn, but at least they're not clones anymore. Credit: Gordon Mah Ung
Moving over to the track pad, HP re-purposed the targeting computer technology from an Incom T-65, which non-nerds will recognize as an X-Wing. And yes, don't worry, you can switch it off if you want to use the Force instead. (That's code words for using your USB mouse instead of the trackpad).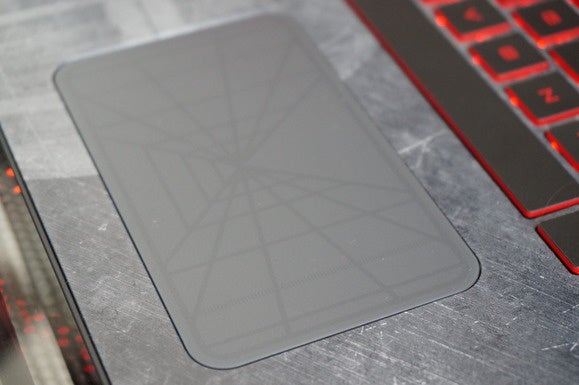 Luke, you've switched off your targeting computer! What's wrong? Credit: Gordon Mah Ung
Besides the exterior finishes, HP also polished the OS itself. There's licensed sounds, screen savers, wallpapers and even a nifty trash icon that switches from Episode IV Death Star when full to Episode VI when empty. HP even throws in a licensed Star Wars Aurebesh font. That way you can type memos in Aurebesh to annoy your boss.