Laugh sensor among oddball wearables at Japanese expo
Some devices were conceived with the best intentions, but the execution fell flat. Still, you can't beat the ingenuity some of these vendors displayed.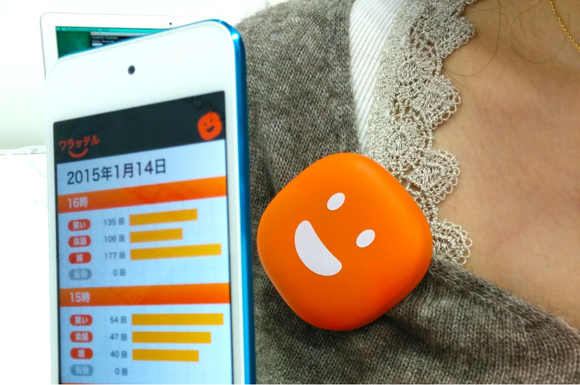 If you think you saw all the wacky or questionable wearables at CES earlier this month, Japan still has a few more up its sleeve.
At the first Wearable Device Technology Expo in Tokyo this week, Google Glass-style head-mounted displays for workplace applications dominated. But a few exhibitors aired concepts that came out of left field.
WaratTell is a sensor that's based on 10 years of "laugh-detecting technology" -- but it's no joke. Developed by Masafumi Matsumura of Osaka Electro-Communication University, the prototype can tell when you're laughing, talking or coughing, as well as whether you've fallen down and can't get up.
The target users are elderly people living apart from their loved ones. If they're too busy to pick up a phone and call, family members can monitor how happy seniors are via an Internet connection and an app that shows how often they chuckle or if they're in distress. During a demo, audio-processing software linked to the sensor automatically distinguished between vocal sounds such as a cough or a guffaw.
Equipped with a microphone, Bluetooth and Wi-Fi modules and an accelerometer, WaratTell is housed in a bright orange casing adorned, appropriately enough, with a smiley face. It clips to a lapel or hangs around a user's neck.
There are other wearable monitors for seniors already on the market, such as AT&T's EverThere, but they mostly focus on tracking movement and not emotion, according to the developers.
"Telling others that you're laughing is important because it's like saying, 'I'm alive!'" said Go Akiyama, a product developer at Tokyo-based real-estate listings firm Next, which is promoting WaratTell. "Conveying the emotion of happiness is the most important point about WaratTell."
The firm is testing the waters with the laugh detector and hopes to release it this year if there's enough interest. It could eventually sell for ¥10,000 (US$85) to ¥20,000.
Another device being tried out at the expo was a "power generation suit" developed by electronics distributor Cornes Technologies.
It incorporates eight flexible piezoelectric polymer patches sewn into the knees, hips and other areas, as well as a capacitor in the chest area. When a person moves around, the patches generate current.
While you might think that charging your iPhone just by wearing something would be nifty and convenient, the suit only generates about 1 milliwatt. That's only enough to power a temperature sensor in the chest and a Bluetooth signal to a linked smartphone, which can display the temperature on an app.
"This is a proof of concept device," said Takaya Ukai, a University of Tokyo graduate student and Cornes intern who was working up a sweat on a treadmill while wearing the electric outfit, which looks like a regular track suit. Cornes wants to pitch the piezoelectric patches to other manufacturers.