Motorola's $350 Moto X Cyber Monday deal crashed Moto Maker, healthcare.gov style
Motorola has a lot more interest in making the Moto brand happen than just phone sales.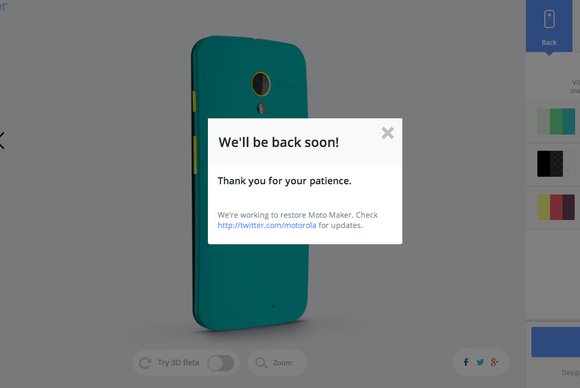 Googlerola decided to be extra generous this Cyber Monday--capitalism's most holy of virtual holidays--by discounting its flagship Moto X phone by $150.
Pretty good deal, right? You're not the only one who thought so.
The one-day deal has proven to be so popular that the flagship phone's signature customization site Moto Maker is down due to the traffic surge--healthcare.gov style.
(Droid-Life has reported that the site has been live, and then gone back down. It's been down for us all day so far.)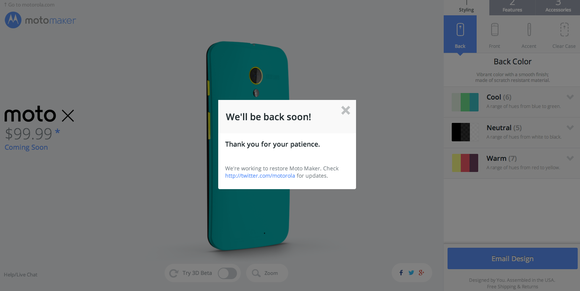 The deal slashes the price of an off-contract 16GB phone down to $350 and the 32GB version to $400. The unsubsidized phones will usually cost you $500 and $550 respectively. The discounted price tags for these elite phones are near-Nexus 5 prices.
While there are other carrier-specific, stock-appearance Moto X deals, such as AT&T's two-year contract dependent offer of a 16GB phone for $100 (or the near-free, contract-dependent phones are available via Amazon ), the Motorola-direct deal gives users the ability for a customizable, contract-free phone.
Additionally, the Cyber Monday deal would give users the ability to purchase the fully tweakable Developer Edition for $150 off.
The Moto Maker site greets users with a prompt that states "We'll be back soon!" and asks them to go to check-in with Motorola's twitter account for updates.
The official @Motorola handle has offered regular updates such as:
If customization isn't a big concern for you, it appears that shoppers will be able to get their hands on the 32GB version of the uncustomizable GSM Developer's Edition for $400 through this Motorola landing page (CDMA here).
Update: Motorola just put-up a main page for the Cyber Monday deal here with links to the GSM and Verizon developer editions. The link to the non dev editions appears to still be bonked.
Motorola future kinda depends on Moto X
While this promotion is one of several Cyber Monday deals, the price slash comes in the context of the surprise unveiling that the GSM version of the Moto G, the Moto X's smaller budget version, would be available to start shipping today--a month earlier than originally announced.
Even though sales of the Moto X have been a disappointment, the phone has been a hit with fans and the press. The flagship phone is the first product of Google's acquisition of Motorola's mobile business, so the company has a lot riding on keeping the Moto brand robust--and it's about more than a few handset sales.