Puro Labs Bluetooth headphones review: These cans promise protection from noise-induced hearing loss
We audition the kids' and adult models and dig both of them.
For wireless connectivity, both headphones support Bluetooth 4.0 and will work up to 30 feet away. In my tests, I found the wireless range to work as advertised. Puro claims a fully charged battery will deliver about 24 hours of battery life and a jaw-dropping 260 hours of standby time. If the battery runs out, you can still use them as traditional wired headphones, though as I mentioned above, you lose the hearing-protection features when you connect in this way.
Do they really protect your hearing?
If they don't work, it doesn't matter how they look and feel. So, I decided to subject each model to an experiment to get to the bottom of things.
To start my experiment, I took my Radio Shack SPL (sound pressure level) meter, calibrated it to 90dB, and put it directly against one of the ear cups. I set the volume on my iPhone and on the headphones to maximum and played several tracks from the Star Wars: The Force Awakens soundtrack.
On the BT-5200, the results I got on my Radio Shack SPL correlated very closely with the indicator LED. Playing the same tracks with the BT-2200 kids version, the SPL meter stayed at or below 85dB almost the entire time—only on a few peaks did it jump a few dB higher. But when I switched from Bluetooth to a wired connection, the SPL's needle spiked up to 94dB or more at some musical peaks.
The bottom line? Puro's headphones worked as advertised. Bravo!
And they sound great!
For an on-ear—versus an over -the-ear—headphone, I was pleasantly surprised by the Puro's ability to isolate outside noise. They fit very snugly against my head, making a good, tight seal on my ears. Taking the Puro headphones for a spin on an east-coast train significantly reduced and muffled—but obviously didn't eliminate—the noise around me. In various contexts at home and on the road, I found that the Puro delivered on this count.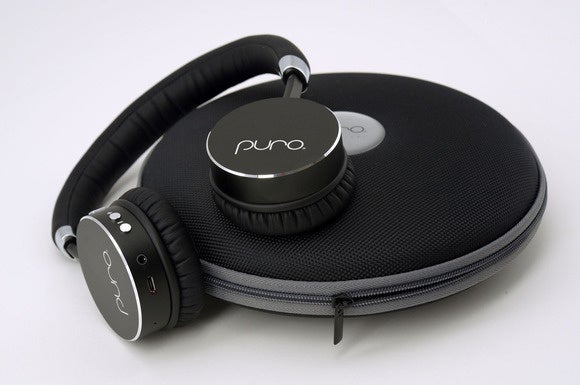 Both models ship with a hard-sided carrying case. Credit: Puro Sound Labs
As for how they sound, I must admit to having—shall we say—reserved expectations given that Puro is marketing these products as headphones that will prevent noise-induced hearing loss. But wow! The Puro BT-5200 and BT-2200 sound superb, delivering an extremely pleasing, well-balanced presentation. These cans would easily compete against headphones costing twice as much.
I streamed the Star Wars: The Force Awakens soundtrack from my iPhone. From the first notes I played, the sound was open and clean. Drums on the track, "Main Title and Attack on the Jaku Village" were dynamic, carrying both weight and definition. You could feel and discern the decay of the drum's membrane instead of it just flopping into a muddy mess. I had the same experience across a variety of musical genres. Bass lines on "Volcano" from U2's Songs of Innocence were toe-tappingly engaging. I loved the Puro's neutral musicality.
Previous Page 1 2 3 4 Next Page