Review: 5 prepaid mobile hotspots fire up business travel
Fed up with mediocre Wi-Fi on the road? For not-so-frequent travelers, a pay-as-you-go personal hotspot might be the answer. We put five to the test.
Its download speeds averaged 15Mbps and peaked at 28.8Mbps, a few megabits per second faster than T-Mobile and Verizon, but at least double that of the two Sprint network hotspots. This should be plenty for a group of workers sharing a Web connection.
At $80, the Unite Express isn't the cheapest hotspot, but it's still a lot less than the $149 Karma Go. AT&T offers three monthly plans that should satisfy a variety of users -- $25 for 2GB, $50 for 5GB, and $75 for 8GB -- but note that the data expires after 30 days. If you hit your limit before 30 days are up, you can add more. (The rate for additional data varies by monthly plan.)
With the best performance and an excellent network, the AT&T Unite Express puts data in its place -- everywhere you go. I only wish its service plans were more flexible.
At a Glance
AT&T Unite Express for GoPhone
AT&T
Price: $80 for hardware; plans range from $25 (2GB) to $75 (8GB)/mo.
Pros: Best performance; inexpensive; external antenna ports; supports 10 users; good network coverage; good battery life
Cons: Complicated setup; short Wi-Fi range; data expires at end of month
Boost Mobile Netgear Fuse Mobile Hotspot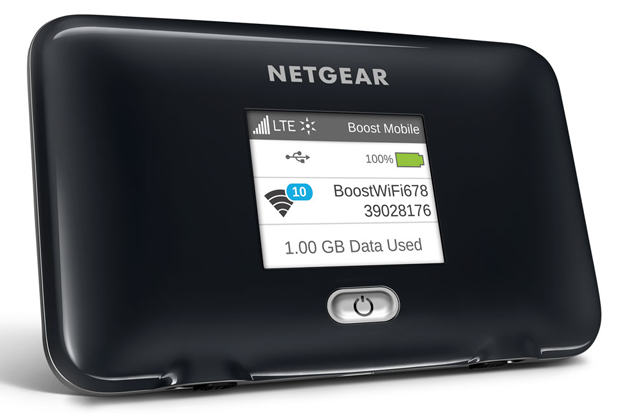 Credit: Boost Mobile
While Boost's Netgear Fuse Mobile Hotspot is inexpensive and offers the cheapest data plans of the five, the Sprint network that Boost piggybacks on falls short of the mark in terms of geographic reach and performance.
The Fuse hotspot matches AT&T's Unite Express in most areas, except it has a shiny finish, compared with the Unite Express's matte texture. Other than that, they both weigh 4.5 oz., measure 4.4 x 2.7 x 0.6 in. and are only slightly smaller than T-Mobile's Z915 hotspot.
The Boost Fuse is charged with an included micro USB AC adapter and has a pair of ports for external antennas (not included) to help grab a weak signal from a distant cell tower. Netgear sells an AC-powered desktop cradle that has antennas built in for use in a trailer or other remote location.
Like the Unite Express, the Fuse has a 1.7-in. color display, but the info it offers is more extensive. The Fuse not only shows the expected signal strength and battery status, but how much data you've used. Granted, showing how much remains in the account would have been more useful, but it's a big step up from the competition.
The Boost configuration pages load automatically when you open a browser that's connected to the hotspot, saving you from having to type in an IP address. In addition to how much data has been used and what remains, you can see who's online, set up port filtering and change the unit's name and password.
Previous Page 1 2 3 4 5 6 7 8 9 10 11 12 13 Next Page