Review: 5 prepaid mobile hotspots fire up business travel
Fed up with mediocre Wi-Fi on the road? For not-so-frequent travelers, a pay-as-you-go personal hotspot might be the answer. We put five to the test.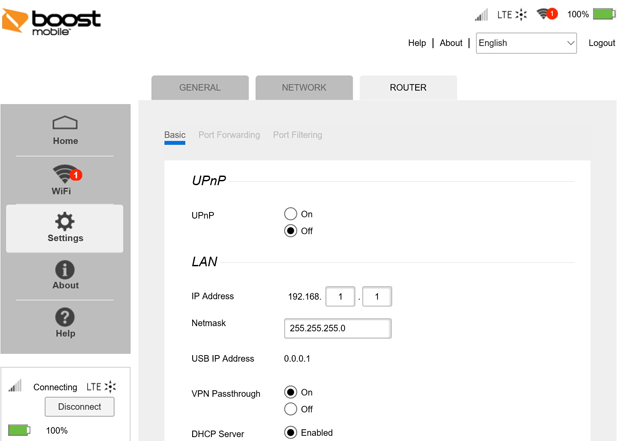 Boost's settings site lets you configure the hotspot and shows info such as the battery's charge level.
The Fuse can also be used with Netgear apps for iOS and Android tablets and phones. They let you see what's going on and make changes to the hotspot's configuration.
Setup and performance
Setup takes about five minutes and starts with connecting the Fuse to a client. It comes with a unique network name and encryption passcode, so is secure out of the box, but I recommend changing them as soon as the device is online for better security.
After clicking on Activate Now, you need to set up an account and enter your credit card info. (Boost won't take PayPal or Bitcoins as payment.) After connecting to Boost's servers and picking the rate plan, you're online.
Like the others, the Fuse has a full 802.11n router inside; it supports WPA2 encryption and can connect with up to 10 users at once. Its 80-foot Wi-Fi range was short, just five feet longer than the similar Unite Express device. Still, it should be more than enough for a group in a small conference room.
Like the Karma Go, the Boost Fuse uses Sprint's 4G network, which has lots of cell sites on the east and west coast, but is sparsely covered in the plains and mountain states and lacks Canadian and Mexican coverage. That said, Sprint has been working to expand its network and upgrade its LTE technology.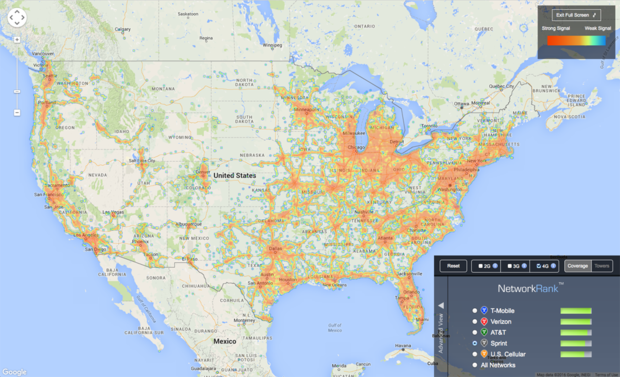 Sprint's U.S. LTE network as mapped by OpenSignal. (Click to expand).
Surprisingly, the Fuse's performance results don't mirror those of the Karma Go, despite using the same network. It had peak download and upload speeds of 17.6Mbps and 13.6Mbps, compared to 32.7Mbps and 26.4Mbps for the Karma Go. That said, the Fuse's average download speed of 5.9Mbps was nearly 30% faster than Karma Go's 4.2Mbps average, while still disappointing compared to AT&T's 15Mbps average download speed.
The performance was reversed for average upload speeds, with the Fuse pushing just 2.9Mbps up to the cloud -- more than 40% slower than the Karma Go's average 5.1Mbps upload speed over the same network. In fact, there were times when the two devices gave wildly different results while operating side by side.
The Boost Fuse's 48.9ms latency was second best to the AT&T Unite Express's 45.7ms, well ahead of the Karma Go's latency of 79.9ms and the T-Mobile Z915's 90.4ms.
Its price tag of $50 makes the Fuse a bargain. Boost offers only monthly rate plans that range from $25 for 1.5GB (not as good a deal as AT&T's $25/2GB plan) to $50 for 10GB (much better than AT&T's $75/8GB plan). Unfortunately, the data expires when the 30-day time period expires.
Previous Page 1 2 3 4 5 6 7 8 9 10 11 12 13 Next Page