Review: 5 prepaid mobile hotspots fire up business travel
Fed up with mediocre Wi-Fi on the road? For not-so-frequent travelers, a pay-as-you-go personal hotspot might be the answer. We put five to the test.
While it is a full 802.11n router that accommodates up to eight users, the Karma Go's Wi-Fi connection with the computer isn't encrypted. By design, this allows and encourages others to jump on and use your connection (they'll see it listed among the available Wi-Fi networks), but not your data stash. Needless to say, this is an open-minded attitude that could (potentially) lead to your computer being compromised. However, Karma says that each client's data stream is isolated and that there have been no reported instances of using a Karma Go to hack into a host's system.
Personally, I found it felt liberating and acted as a natural conversation starter to share the data connection with a stranger, and I didn't experience any slowdowns while sharing the connection. Karma gives you an extra 100MB every time you share your Go's connection.
The Go puts out the strongest Wi-Fi signal of the bunch with a superb range of 110 feet -- 35 feet longer than the AT&T Unite Express. On the downside, its battery lasted for just 4 hours and 35 minutes, the shortest of the five and only about a third as long as the Verizon Jetpack's 12 hours and 45 minutes.
The Karma Go uses Sprint's emerging LTE network, and -- as is the case with Boost -- that's a weak point. The network is strongest on the east coast and Midwest, but is sparsely represented throughout the plains states and offers no sites in Mexico or Canada. If there's no 4G coverage, the Boost device will use Sprint's older and slower 3G network.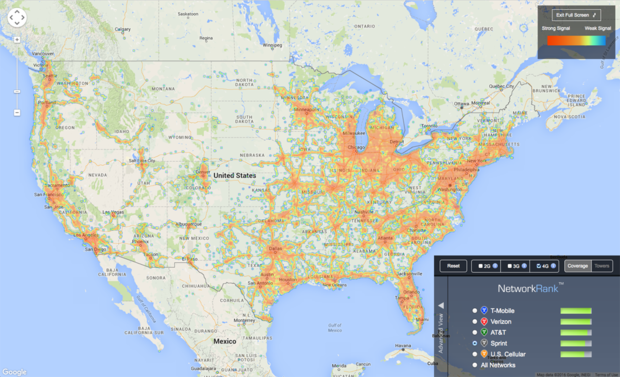 Sprint's U.S. LTE network as mapped by OpenSignal. (Click to expand).
In actual use, the device was reliable and never failed to connect on demand. It hit peak download and upload speeds of 32.7Mbps and 26.4Mbps at different locations on different days.
In testing, however, the Karma Go was a mediocre performer with an average latency of 79.9ms, 43% slower than the class-leading AT&T Unite Express. Its average download speed of 4.2Mbps made it the slowest of the five. Oddly, its average upload speed of 5.1Mbps was faster than its average download speed -- and faster than the average upload speeds of both the Boost Fuse (2.9Mbps) and T-Mobile's Z915 (3.1Mbps).
Unlike the others, Karma's plans are not time-dependent and data never expires. Just fill your account and use it whenever you want. It's no bargain, however, with plans that range from $14 for 1GB to $99 for 10GB. (Karma also offers a plan that doesn't fit our "pay-as-you-go" theme but isn't quite traditional either -- $50 per month gets you unlimited data but a maximum download speed of 5Mbps.)
Previous Page 1 2 3 4 5 6 7 8 9 10 11 12 13 Next Page