Samsung Galaxy S7 Active review: The rugged flagship phone for clumsy fingers
Some phones are built like fragile little flowers. This one is built to withstand a rough-and-tumble lifestyle, though it's not entirely life-proof.
Like its rugged predecessor, the S7 Active is IP68 certified, which means it's both dust-proof and water-resistant for up to 30 minutes in five feet of water. It's definitely the kind of phone that you can take to the pool with you, but it's not technically submersible. So don't plan on making extensive underwater videos with it.
As powerful as it is tough
The Galaxy S7 Active features most of the same components as the Galaxy S7, including a Snapdragon 820 processor, 4GB of RAM, a 12-megapixel rear-facing camera, and a 5-megapixel front-facing camera. If you're curious about how the silicon performs, we tested it extensively in our GS7 review. And if you're aching to see the kind of photos it snaps, be sure to check out how the Galaxy S7 performs compared to the iPhone 6S.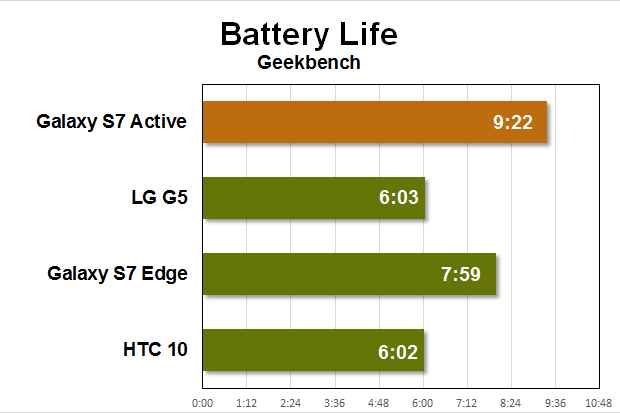 The Galaxy S7 Active's 4,000mah battery pack can get you through 9 hours.
Thankfully, there are no gaping performance differences between the Galaxy S7 and its tougher counterpart, though the Galaxy S7 Active shines with regard to battery life. The device houses a much larger 4,000 mAh battery, compared to the Galaxy S7's 3,000 mAh battery, and the Galaxy S7 Edge's 3,600 mAh battery. The Active outlasted both of them, too: In our Geekbench battery rundown test, the Galaxy S7 Active lasted a whopping 9 hours and 22 minutes. The Active also lasted through two days of light use without needing a charge, and even at the end of the Geekbench battery test, it was still holding on with a few percent. It takes a lot to kill this thing.
Touchwiz: A reprise
The Galaxy S7 Active runs the same Touchwiz interface on top of Android 6.0.1 as its shinier counterparts. But because the phone is sold exclusively through AT&T, you'll have to contend with all the awful bloatware and AT&T-branded apps that come with the device, including a DirectTV remote widget that lives in the notifications shade. You can't remove these apps to reclaim space, but you can disable them so that they never bother you.
Florence Ion
An Active button you can program to your liking.
Like the S6 Active, the S7 Active employs an Active key. Pressing it launches the Activity Zone, which contains widgets for a weather report, a barometer, S Health, a compass, a stopwatch, and a quick-launch Flashlight button. You can customize what a short-press, long-press, and double-press of the button will do, and whether it's available to use while the screen is locked.
It's certainly helpful to have this kind of functionality available without having to turn on the screen, especially if you're in an environment that requires a lot of protective gear. Also note that there's an Emergency Zone that can quickly dial 911 or any of your preferred contacts if disaster strikes.
Should you buy it?