SnipNotes 2 review: The more versatile, clipboard-friendly alternative to iOS Notes
A great app for making snippets useful in a whole lot more places.
Make note of it
Pardon the pun, but it's the favorites feature that really made me sit up and take note of SnipNotes. Each item includes an optional header field, so I was able to paste my Apple ID passwords into separate entries with an easy-to-remember name (one for iCloud, another for iTunes), then pin them as favorites so they always appear at the top of the list.
Now all I have to do is tap the header name from Notification Center to copy the contents (for example, my password) onto the clipboard prior to making an iTunes Store purchase. Content can optionally be secured with Touch ID, and since would-be intruders don't have my passcode, fingerprint, or iCloud account, SnipNotes is a fairly safe and super-convenient workaround.
Version 2.1 introduces the ability to organize notes into categories, each with an easily identifiable icon. It's a great addition to the app's existing search and robust filter options that really help manage an ever-expanding list of notes.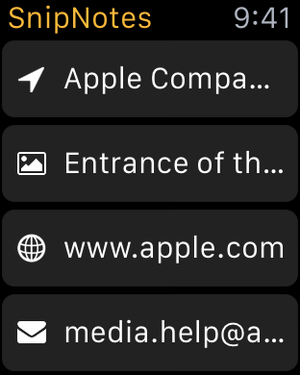 Let's see iOS Notes do this: SnipNotes works with Apple Watch, allowing users to view notes or create new ones with voice dictation.
While SnipNotes has definitely become part of my daily workflow, you'll want to keep Apple Notes for more involved note-taking. SnipNotes lacks the powerful formatting and markup features Cupertino added to Notes with iOS 9, and there's currently no macOS version, although the developer promises one is on the way.
Bottom line
SnipNotes isn't quite ready to completely replace Apple Notes, but it's still a great app for making snippets useful in a whole lot more places.