Tested: 8 third-party leather bands for the Apple Watch
Before you drop US$150 on Apple's luxurious leather loop, check out these third-party options in exotic leathers and colors.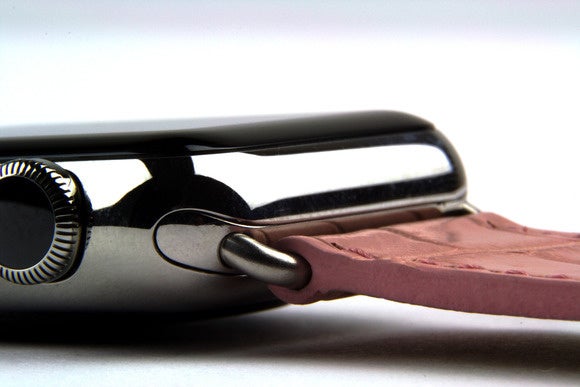 Credit: Clessant
Apple has put a lot of thought into its Apple Watch band options, and it shows. I won't deny that the Apple Sport Band is one of the most comfortable wrist-adornments I've ever worn (ever). But its leather options are limited—not to mention expensive. The Classic Buckle and Leather Loop come in just a handful of colors and cost $150, while the chic Modern Buckle costs $250, nearly as much as the Sport Watch itself.
But if you want a leather band, Apple's not your only option. Plenty of third-party band-makers have stepped in to fill the void. I tried out eight third-party leather bands, including bands made of exotic leathers and a clever button-stud band, over the course of several weeks to see how they break in and hold up. Let's take a look.
Clessant: Calf, Crocodile, and Lizard
Based in Lyon, France, Clessant claims to have the first luxury straps designed for the Apple Watch—designed in France, handmade in Western Europe, and created from exotic leathers such as crocodile, lizard, and stingray. The brand recently finished its Indiegogo campaign, raising 103 percent of its initial goal, and ships its bands worldwide (shipping to the U.S. is $12). These bands are slim, lightweight, and clearly well-designed. They feature bright, saturated colors (as well as a few nicely aged leather looks) and brushed stainless steel buckles that lie flat against the wrist.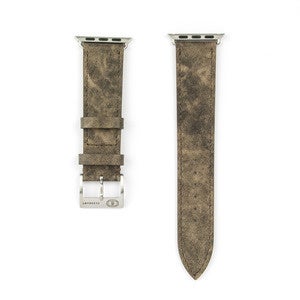 The Clessant calf band comes in three shades of brown. Credit: Clessant
I tested out three of Clessant's bands: The $111 vintage brown calf leather band, the $236 pastel pink alligator belly leather band, and the $179 mustard yellow lizard leather band. All bands fit me well—the longer part of each band measured 4.5 inches and had 7 holes for adjustment. Because the Clessant bands taper to a sharp point at the end, the adjustment holes did not offer as much size flexibility as other bands I tried: The largest adjustment hole is 3.5 inches from the adapter, whereas the largest hole on the Incipio Premium Leather band is 4 inches from the adapter. Still, there's plenty of room to punch an extra hole or two if you need to size up or down.
Clessant's calf leather band comes in six colors, which are simply labeled CK1 through CK6. CK1 through CK3 are varying shades of brown (grayish brown, vintage brown, and flat brown), while CK4 is midnight blue, CK5 is black, and CK6 is orange. CK1 through CK3 are vegetable tanned, which will give them a "strong patina and personality with age," while CK4 through CK6 are chrome tanned with a smooth matte finish. I tested a CK2 (vintage brown) band, which looks amazing: It has a mottled, aged coloring that looks good on men and women. The band was a little stiff at first, but it only took about one day of wear to break in. Despite the relative thinness of the leather, the band didn't warp much after a straight week of wear, though it warped enough that you can tell it's no longer new.