Tested: 8 third-party leather bands for the Apple Watch
Before you drop US$150 on Apple's luxurious leather loop, check out these third-party options in exotic leathers and colors.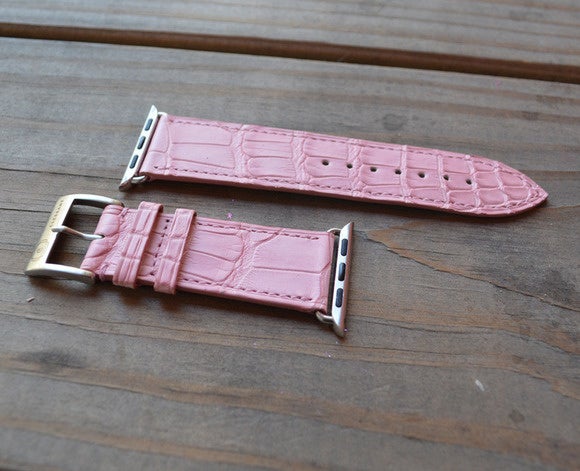 I love the pink alligator Clessant band. Credit: Sarah Jacobsson Purewal
The crocodile/alligator belly leather band comes in six colors: CR1 is pitch black crocodile leather, CR2 is tobacco brown crocodile leather, CR3 is pale blue alligator belly leather, CR4 is pale pink alligator belly leather, CR5 is forest green crocodile leather, and CR6 is royal blue crocodile leather. All of these straps have a textured, matte finish except for CR5, which has a glossy finish. The main difference between Clessant's crocodile/alligator belly leather and its alligator leather bands, aside from the price, seems to be the size of the scales – the crocodile/alligator leather bands have smaller scales, which are more suited to unisex styles. I tested a CR4 (pale pink alligator belly leather) band, which is one of my favorite third-party bands to date. Not only does this band look expensive and exotic, it's slim while still being tough—after one week of constant wear, I saw virtually no warping.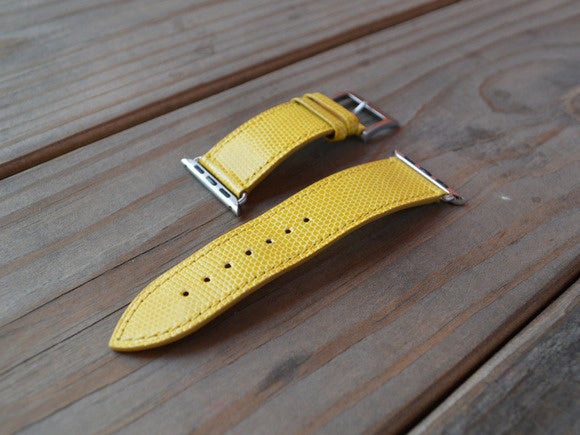 Clessant's mustard yellow lizard band warped after a few days, but you can't tell when it's strapped to my wrist. Credit: Sarah Jacobsson Purewal
Clessant's lizard leather bands are for people who like exotic leather and bright colors. Lizard leather comes in five colors, including tan (LK1), fuchsia (LK2), royal blue (LK3), brick red-orange (LK4), and mustard yellow (LK5). All colors feature a textured, glossy finish. I tested an LK5 (mustard yellow) band, which is eye-catching (to say the least) thanks to its vibrant color. The lizard leather is slightly thicker than the calf and alligator belly leather, and so this band took about four days to fully break in and stop feeling stiff against my wrist. It's also more prone to warping. After a week of wear, warping was noticeable, though not while I was wearing it.
Clessant's bands aren't cheap—they start at $111 for the calf leather band and go up to $448 for alligator leather—but they do look the part. These bands come with your choice of adapter color (polished stainless steel or black) and can be made to fit either the 38mm or the 42mm Watch. While you can definitely find cheaper leather bands for your Watch, Clessant delivers when it comes to precision and quality.
form•function•form Button-Stud Apple Watch band
If you're looking for an unconventionally stylish band, you need to check out the Button-Stud Apple Watch band by Orlando-based form•function•form. This $94 band is custom-made with latigo leather, comes in three colorsR: io Tan (chestnut brown), Weathered Grey, and Sienna Tan (dark brown). Every band features hand-stitched details and your choice of hardware color: polished silver, matte silver, polished black, or matte black.
Previous Page 1 2 3 4 5 6 Next Page