Tested: 8 third-party leather bands for the Apple Watch
Before you drop US$150 on Apple's luxurious leather loop, check out these third-party options in exotic leathers and colors.

The Button-Stud band doesn't adjust, but if you need a different size later, the company will exchange it for free. Credit: form function form
Unlike other bands, the Button-Stud Apple Watch band is not adjustable. This means you'll need to pick your size, which is based on your Apple Watch Sport Band size, when you order. On the Apple Watch Sport Band, I'm between the third and fourth hole (the third hole is slightly too tight, but the fourth hole is slightly too loose), so form•function•form sent me three bands, one sized for the third hole, one sized for in between the third and the fourth hole, and one sized for the fourth hole. The band sized for in between the third and fourth hole (S/M 3.5) fit me perfectly, though the band should be a little tight initially because the leather will loosen up with wear. The Button-Stud Apple Watch band comes with a lifetime size warranty: If the size you order doesn't fit, form•function•form will send you a new size as well as a shipping label to return the old band.

I needed help putting this one on the first few times. Credit: Sarah Jacobsson Purewal
The band isn't the only thing that's tight at first—the button stud closure is almost impossible to close the first few times. I had to have another person close the band around my wrist the first three or four times I wore it, but after a few days of taking it on and off it started to loosen up.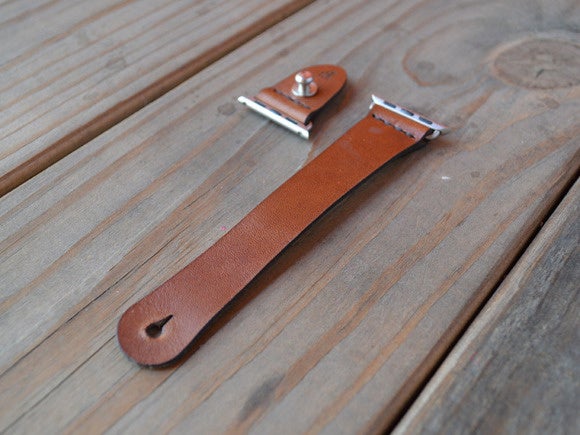 Thanks to its unique closure, the Button Stud band is comfortable against my wrist. Credit: Sarah Jacobsson Purewal
The Button-Stud Apple Watch band is one of my favorite third-party bands so far. It's comfortable once you break it in. I usually hate wearing things on my wrists while I'm typing, but because the Button-Stud has no clasp, I hardly even notice it. It's also gorgeous. The design is simple yet unique, and will look good on both men and women.
Incipio Premium Leather band
Incipio's Premium Leather band is made of incredibly soft, pliable leather, and is therefore very comfortable right out of the box. This $60 band comes in black, brown, and chestnut brown, and sports stainless steel connecting hardware and a stainless steel Incipio-branded buckle.

Incipio's band is inexpensive at $60 but still looks good. Credit: Sarah Jacobsson Purewal
Previous Page 1 2 3 4 5 6 Next Page