Tested: 8 third-party leather bands for the Apple Watch
Before you drop US$150 on Apple's luxurious leather loop, check out these third-party options in exotic leathers and colors.
The Premium Leather band is lightweight and simple, with a slightly tapered design that flattens at the end and a single loop to hold the end of the band in place. The stainless steel buckle is curved so it lies flat against your wrist, and it's pretty comfortable even if you're picky, like I am, about wrist adornments. The longer part of the band is about 4.5 inches long (the shorter part is 2.5 inches, not including the buckle) and has 11 holes for adjustment. I have a fairly small wrist, and the fourth smallest hole fit me perfectly.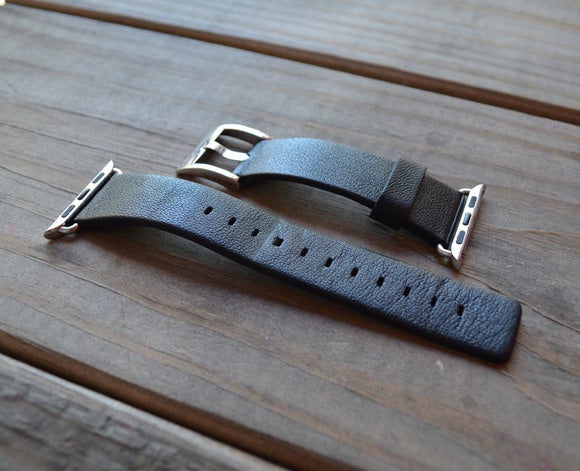 Incipio's band has plenty of holes for a highly adjustable fit. Credit: Sarah Jacobsson Purewal
On Incipio's website, the Premium Leather band appears to come with only one connector hardware option, polished silver stainless steel. While this looks fine against my silver aluminum Apple Watch Sport, it might look a bit more jarring when it's connected to a space gray or yellow gold Apple Watch. The Premium Leather band is available for both the 38mm and 42mm Watch faces.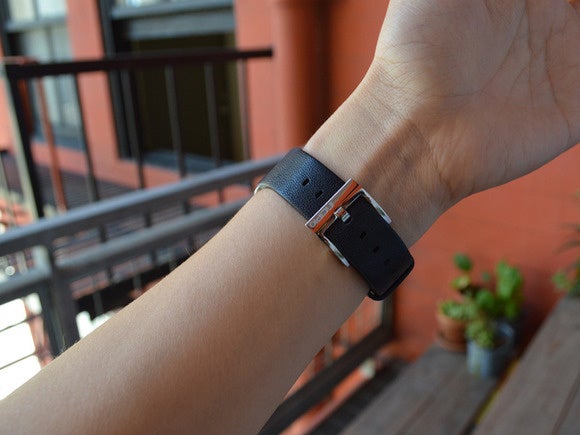 Incipio's soft leather and curved clasp make this band very comfortable. Credit: Sarah Jacobsson Purewal
Incipio's Premium Leather band is the most comfortable band I tested, and it needs no break-in time. My only small issue with this band, aside from the lack of hardware options, is that the leather might be too soft. After one week's worth of wear, I did notice a few scuffs and scratches. But for just $60, it's a sharp-looking strap.
MintApple: Crocodile, Lizard, and Ostrich
Clessant isn't the only company making exotic leather bands. U.K.-based MintApple also offers Apple Watch bands in crocodile, alligator, lizard, and ostrich leather. MintApple's bands feature thick, padded leather in mostly neutral colors, and they fasten together with a stainless steel folding clasp instead of a buckle.

MintApple's band close with a folding clasp instead of a buckle. Credit: MintApple
I tested three of MintApple's leather bands: The $106 black crocodile leather band, the $106 brown lizard leather band, and the $106 brown ostrich leather band. If you have a larger wrist, MintApple's bands are designed for you. According to their website, these bands can fit a wrist with a maximum circumference (including the Apple Watch) of 222mm, or 8.7 inches. You can also special order a larger size (no word on how big it is), and a MintApple representative tells me that smaller sizes will eventually be available as well. But sizing was the first issue I encountered with the MintApple bands: I have a very small wrist, and none of these bands fit me on even the smallest hole. I had to punch three extra holes in the ostrich leather band, and it still doesn't sit snug enough against my wrist for my Apple Watch's heart rate monitor to work.
Previous Page 1 2 3 4 5 6 Next Page