The best apps to help you relax and reduce stress
Instead of only stressing you out, your phone really can help you get some peace if you use the right apps and strategies.
Your phone is probably one of the biggest stressors in your life. It's constantly buzzing with email alerts, text messages, news updates, sports scores, and tweets. Sure, you can turn those off, but then that means you probably just check it more often to see if you "missed anything."
A recent study from the University of Illinois found a likely link between smartphone use, stress, and overall life satisfaction. There's other evidence that meditation and mindfulness have positive benefits, even some physical changes to the brain. The makers of the Headspace app have a clever animation that explains some of this:
Everyone's experience is going to be different, but there's considerable consensus that the American tendency toward long hours, short vacations, unending obligations, always being available via your phone aren't great for the mind or body.
I came across some apps that promised a respite, and decided to take them for a spin to see if there was something to this whole idea that an app could help you meditate your way to inner peace.
In general, I liked what I experienced, though deciding to close your eyes and let your phone guide you to a land of enlightenment is going to be a very personal choice. If you're up for the journey, I found these to be the top three app to turn your phone into a personal Buddha.
Headspace: the best all around for meditation and clarity
If you just want to know which one is the overall best, then go for Headspace. It assumes (correctly so in my case) that you have no knowledge of how to mediate. When you fire up a session a smooth, British voice guides you through the motions: relax your head, clear your mind, your body is feeling lighter, and lots and lots of positive reinforcement. If a dark cloud follows you the way it does me, it's quite the culture shock.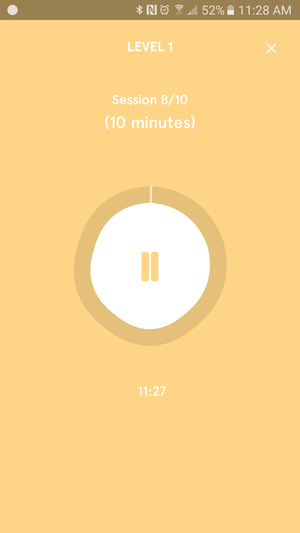 Listen to the smooth voice of a trained meditation expert walk you through all the ways to clear your head.
I'm not the meditative type, and at first it was definitely a little weird. But over time, Headspace nudges you in the right direction with animated videos and gamification by keeping track of your stats. You can even buddy up with others for some social meditation scorekeeping, but I thought that went against the grain of the whole point of solitude.
At some point, the idea is, like most services out there, to move you to a subscription model.

Headspace can track your stats and even get social, though some of it seems to defeat the purpose of focusing on solitude.