The best apps to help you relax and reduce stress
Instead of only stressing you out, your phone really can help you get some peace if you use the right apps and strategies.
Headspace subscriptions involve specific meditation sessions that focus on creativity, focus, happiness, and a lot of other areas. The cost is $13 if you subscribe one month at a time, or $8 if you agree to a one-year subscription. The good news is the trial sessions is enough to give you an idea if this is something you want to jump on or not.
I'm not yet convinced that focused calming can improve a specific life skill, but Headspace did convince me that slowing down from time to time was worth it, and it might do the same for you.
Going for days of Calm
Another good option is Calm. Like Headspace, it takes you through a introductory period, speaking to you softly and helping you approach inner peace with just 10 minutes a day of focused meditation.
I liked the different backgrounds, like an ocean, forest, and beach. That's definitely a refresher from checking your Gmail or frantically swiping on the screen while playing Cross Road Disney.
If you already know what you're doing, you can just use the app as a meditation timer, which will bring you back to consciousness after a specified period of time.

Calm has many different areas of focus to help you be, well, calm.
It may seem like a small thing, but I found the Android Wear app to be really beneficial. Nothing shakes you out of your calm like having to come to and find where you set your phone down once the session is over. Instead I could just swipe on my watch to end the meditation period or see how much longer I had until I returned to the world of stress and anxiety.

You can launch or pause a meditation session from your Android Wear watch.
I also liked how Calm was instructive in comparison to the other two apps, as there was less dialogue and more options to just listen to the rain fall or the ocean waves crash on the beach. Though the introductory sessions did have plenty of the usual mantra about how we're overstressed, have too much to do, etc.
I also liked how you can elevate or decrease the noise of the background sound, so I could focus on that instead of the ongoing instructions.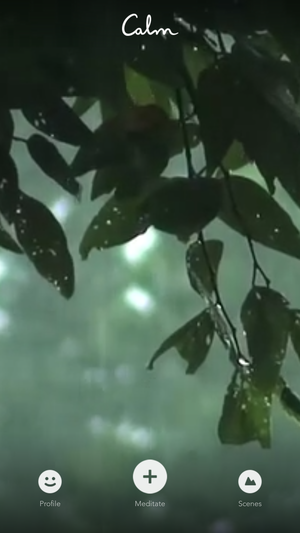 The Calm interface is very soothing, at least before you close your eyes to meditate.
To get the full package of the various guided programs and meditative sessions, Calm will cost you $3.33 per month if you do a yearly subscription, or $10 per month if you want to just try it out for a month or two. Or you can go for the ultimate package, and get a lifetime subscription for $300.