The best free apps for marathon runners
Training for any race—let alone a 26.2 mile marathon—can be a daunting task. Luckily, there's an app, or several, for that!
MapMyRun--iOS, Android, BlackBerry
MapMyRun is a comprehensive fitness tracking app that works in tandem with a website. The app lets you track your runs (hence the name), including time, distance, pace, and calories burned.
What's nice about this app is that you can choose different types of running workouts to track, such as treadmill running, sprints, races, interval training, cross country, trail running, and power walking.
MapMyRun (known as MapMyFitness on Android and iMapMy on BlackBerry) is free, but extra features such as coaching (which allows you to set goals, and tells you if you're below your target pace), and the ability to control your playlist from the app costs an extra $5/month or $30/year. You can also opt to purchase a MapMyRun Bluetooth heart rate monitor for $50, which includes a year of the service.
Run The Map--Windows Phone 8
Run The Map is a simple, yet effective fitness tracker for Windows Phone 8 users. This app is similar to MapMyRun, but without all the bells and whistles. You can record your route, track your run on a map in real time, and see your time, distance, and average speed.
You can also track stats such as your maximum speed and altitude increases and decreases. Run The Map also automatically records interval splits, which is a great feature for people who don't want to have to press a button every time they start or stop an interval.
RunKeeper--iOS, Android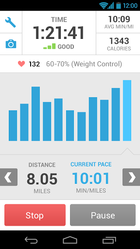 RunKeeper is a full-featured fitness tracking app aimed at--you guessed it--runners. This app tracks your workout via GPS (though you can also enter in workouts manually), and features music controls and audio cues/coaching.
You can also set goals (such as distance, weight, or finishing a race), share your progress on social networks, and take photos during your workout, which is great if you happen to be hiking or running on a gorgeous trail. The app also works with a variety of heart rate sensors and integrates with activity trackers such as Fitbit, Zeo, Garmin, and Wiithings.
Calorie Counter and Diet Tracker by MyFitnessPal--iOS, Android, Windows Phone 8
The best thing about distance running that you can pretty much eat all the carbs you want without feeling guilty. But that doesn't mean you shouldn't be paying attention to what you eat--you should, both to make sure you're getting the calories you need (and not overeating) and to keep yourself from indulging on too much junk food.
Calorie Counter and Diet Tracker by MyFitnessPal will help you do just this: It's basically a mobile food diary with a pre-built database of over 2 million foods. It's easy to use, and you can add multiple foods at once (a feature which the company boasts "no other app has"). You can also connect to other MyFitnessPal affiliates, such as BodyMedia FIT, Digifit, Endomondo, and Finis Swimsense to track your workouts alongside your eating.