These secret tools reveal the hidden corners of your Chromebook's storage
That paltry hard drive can fill up fast, even on a computer built around cloud storage. Here's how to keep tabs on your space and make some needed room if you need it.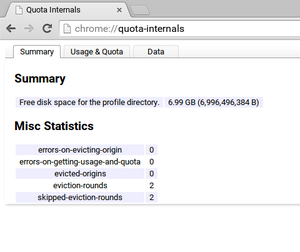 Get all the geeky statistics you want by checking out the Quota Internals page in Chrome.
These tools should be enough to free up storage if you're running low. However, if you find yourself regularly running out of storage space, it may be time to embrace some of the cloud-friendly programs and tools that make a Chromebook what it is—a powerful computer that offloads most of the heavy lifting to the cloud.