Thunderbolted: USB-C is our new connection overlord. Get used to it.
In with the new, and out with the...everything else.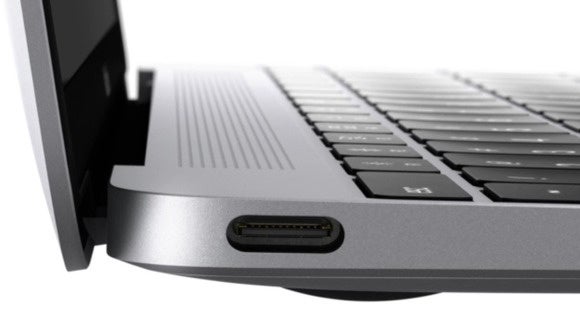 When news of a new Mac notebook leaked two months ago, one of the aspects that seemed most absurd was the omission of multiple ports. Instead, there would be just one hole. Weirder still, it would be USB-C, a format never before seen in a Mac and unfamiliar to most people, as it was only unveiled in production equipment last September.
Turns out, it wasn't absurd at all. With the new 12-inch MacBook, Apple has gone all in for all-in-one, using USB-C to provide power, display output, and USB connections. Thunderbolt is gone. The SD card slot is gone as well. And the MagSafe component of the power connection has disappeared into very thin Air--I mean, thin MacBook. (Magnets? How do they work?)
Apple says that USB-C adapters can provide HDMI, DisplayPort, VGA, gigabit ethernet, and USB 3.1 support, and can both power a computer and send power to attached peripherals. Notably, ethernet and DisplayPort options aren't included in the current USB-C accessories list at the Apple Store.
But Thunderbolt is the really big loser in the new 12-inch MacBook: USB-C can't support Thunderbolt devices.
In the pursuit of slimness, sleekness, and simplicity--the same goal that brought us Lightning--Apple has seemingly done with Thunderbolt what it once did with FireWire. But is USB-C a worthwhile shift for users? Well, all interfaces are compromises in one way or another, and Apple believes USB-C meets more customers' needs, even as the new interface throws some people off a cliff.
The upside is compatibility, and thus lower costs and more options. USB-C is also a unifying and universal standard that doesn't involve a single company acting as a licensing gatekeeper, the way Apple protects Lightning cables and adapters. USB-C would seem to have a lot to offer, but first we have to get over the hump of newness.
FireWire in the hole!
We've gone through this before, and every iteration brings pain and joy. The pain comes from having to purchase new adapters and figure out the limitations of the new interface. The joy flows from improvements in performance and flexibility, and simplicity in making connections.
The bump from Apple Desktop Bus (ADB, Apple's original serial peripheral standard for keyboards) and SCSI (for hard drives and scanners, among other uses) to USB 1.1 was a big one in the first iMac circa 1998. ADB was slow, required daisy-chaining, and could be finicky. SCSI was fussy as all get out, despite its relatively high speed. (Remember terminators? Self-termination? Numbering devices? Running out of numbers?)
But USB let you plug and unplug, even while devices were in use! Sure, you could leave a hard drive in a weird state by unplugging before it was fully unmounted, but you at least wouldn't fry its circuits by accident.