Which streaming music service is best for your Android phone?
Spotify, Google Play Music, and Apple Music: We put the top apps through their paces and pick the best on-the-go option.
Value

Apple Music offers a free three-month trial, while its more established rivals provide just a month without payment.
It's hard to argue with free—actually, it's not that difficult, but some people just aren't ready to pay for streaming music. Fair enough. Spotify offers the most mobile functionality for those users, letting you listen to any artist, album, or playlist… in shuffle mode only. And with sporadic audio ads, of course. Still, that's a pretty solid deal for the price of nothing.
Google Play Music, meanwhile, lets you tap into its automated, ad-supported radio stations without pay, although that's not really any different than using something like Pandora. However, the free version of Google Play Music has another big option: the aforementioned matching service, which lets you upload 50,000 songs to the cloud and listen to them anywhere without a paid subscription.
If you're willing to pay, however—and you'll need to if you want full functionality—the going rate for all three services is $10/month for one user. Google Play Music and Spotify each have a one-month free trial for new users, while Apple Music offers a whopping three free months upfront.
Want your whole family to rock out on their myriad devices? Apple Music and Google Play Music offer the best deals for a larger crew, letting up to six people share the same account for just $15 a month—and each person gets a login, so you won't be embarrassed by your kids' tunes popping up in your feed. Spotify, meanwhile, hasn't amended its family plan to meet the competition: each additional user is $5, all the way up to $30/month for five people.
Conclusion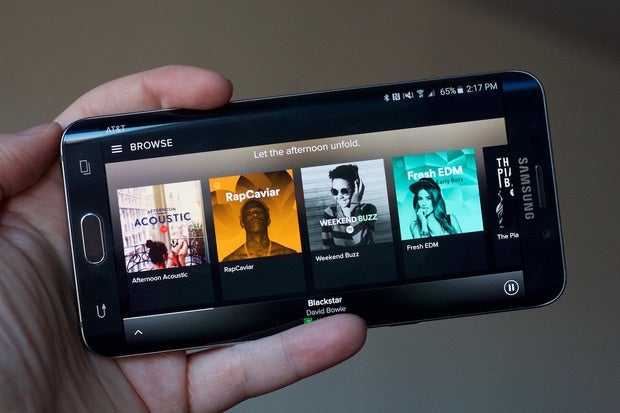 All things considered, we give Spotify the nod for best Android streaming service.
Each of the three largest Android streaming services has significant advantages, whether it's the free playback and special modes of Spotify, Beats 1 radio station and personal curation of Apple Music, or the YouTube Red access and free matching service with Google Play Music. Given the similar core streaming functionality between the services, any of those perks could sway your decision above all.
For us, Spotify is the best-rounded of the bunch on Android. It has a useful and comfortable interface, the recommendations and discoverability elements are helpful, and the Running feature in particular is great for phone users. Add in support for Google Now voice commands and Chromecast streaming, not to mention the solid free functionality, and Spotify delivers a compelling mobile experience. The lack of cloud-based local library matching is a notable downside, however, and could push some users away.
Previous Page 1 2 3 4 5 Next Page